What Color Furniture Goes Well With Grey Floor ? A Complete Guide
Did you color your floors a grey shade? Great choice, it's a versatile color and fits with almost every other shade. The color grey enhances the airiness of the room, the room feels roomier. The grey color looks very classy and delicate and it also blends the scratches with itself. Grey floors are classy and timeless and you can decorate them with various themes. You can decorate them with any theme, it can be cozy or delicate, or contemporary anything. You have to be very careful in choosing colors; once you pick the right color your room will be more classy. Here you will find what color furniture goes with grey flooring.
Choosing a piece of furniture for grey floors is not a tough thing to do, it is not that easy also. You have to be very careful choosing what color goes well with the grey color. First, you can choose from the colors which go with grey, and then you have to figure out the style of the furniture that would go well with your floor's aura and room's decor.
Colored Furniture That Goes Well with Grey Color
Grey is a very common and easy-going color as it fits with any range of shades to offer a perfect contrasting appeal. Here are some furniture color recommendations which can go with the grey floor perfectly.
Upholstered Furniture
Upholstered furniture such as sofa bed, couch, etc. are the ones that come covered with fabrics and can be a great addition to your space. What color furniture goes with grey flooring?
When you choose to have a grey floor you can have beige-toned upholstered furniture.
The beige color is serene enough to go nicely with a cool tone of grey. This two-color will complement each other to look great in your living room. The beige color shows a sense of endearment so, it can surely attract your guests and earn some nice compliments.
So, what color furniture goes well with grey floors? White color is a bright and light shade that goes great with grey. Just imagine an interior with a grey floor and a white couch, how aesthetic it looks! It will appear to be quite soothing and elegant and will have an aesthetic feeling in the mind of your guests. A white-colored sofa, comfy chair, or a couch setup would go amazingly with every shade of grey.  Just be aware of the stains.
Black color is a neutral color like white; it goes very well with the black color. Black is the classiest color, the grey is also a classy color. Two classy colors will complement each other. Black color goes with almost every shade of grey. You can have a classy appearance of your room in front of your guests; you also can have a meeting in the black furnished grey floored room. You just have to choose your other furniture carefully.
There are barely any shades available as royal and elegant as blue. Hence, you can pair it up with your grey floor easily. The rich depth of blue shade accompanied by staple grey floorings would look out-of-the-box yet flamboyant. Blue couches will create a soothing and fresh atmosphere when you pair them with grey. A navy blue couch will go perfect for mid-toned grey flooring. To beautify your light grey flooring there is another piece of furniture such as a sapphire-colored sofa, or an indigo corner bench that would look spectacular.
Yellow and grey are a wholesome pretty combination to have when you are in doubt about what color furniture goes well with grey floors. Yellow is a vibrant and bright choice that has the power to mingle sole fully with the exquisite tone of grey. A light and cool tone of the grey floor will go well with the mustard yellow furniture sets. For an elegant living room, you can pick some exotic uniform shades of yellow furniture such as a divan, a center table, a sofa set, etc.
Solid Furniture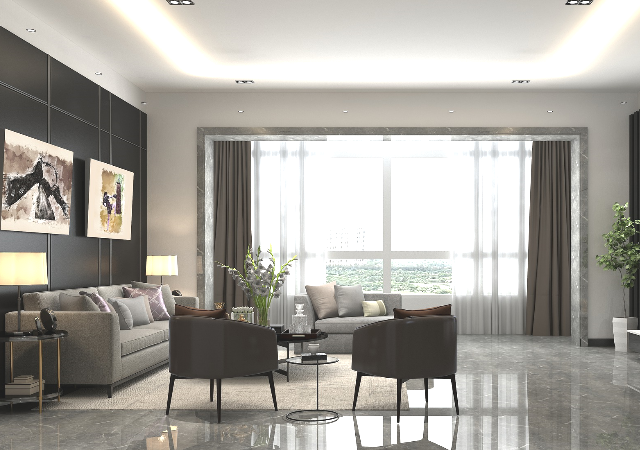 Solid furniture is those which do not have cushioned finishing. Solid furniture is made from wood, metal, plastic, or glass. Some examples are coffee tables, dining tables, desks, shelves, etc. There are many options with solid furniture which goes with grey colored floors. You can find here what color furniture goes with grey flooring.
Brown is a great option when you are opting for solid furniture. The brown color is an earthy shade with a warm undertone. There are many shades of brown to go with the grey flooring. If you choose a dark brown color for the furniture then you can beautifully accentuate the light shade of grey. On contrary, for a dark shade of grey flooring, a bunch of light brown solid furniture would suit divinely.
Any shade of grey will look good with the white color. White is a neutral tone that adds a splendid rapture to the furniture with the touch of sheer elegance. Hence, there is no place of doubt that both white and grey mingled together in one room would look aesthetically pleasing.
Black is winning hearts since its inception. The color of darkness can add an edgy look to your room's interior when you are thinking to decorate your grey flooring. What color furniture goes well with the grey floor? The safest answer of all time is black as nothing looks more extensive than the combination of grey and black. Picking a black coffee table, wooden bench, or TV cabinet would look extraordinary with your grey tiles.
Other colored furniture will also look great on the grey flooring. While the Black, white, and beige colors will look classy the other pop shades will add more vibrancy to the room. Colorful furniture is quite trendy these days as these are great at adding a bit of millennial touch with youthfulness. For example, teal furniture will look great with dark grey color while a shade of mustard yellow furniture will look unique on light grey flooring. Other colors like pink, mauve, sky blue, rich orange, or the grey itself would look good when will be incorporated through furniture for grey floors.
Conclusion
Here we have discussed what color furniture goes with the grey flooring. It is always a great decision to pick the furniture which nicely blends with your choice of flooring while leaving a magical aura in your room. Besides looking at the colors makes sure the style and features of the furniture are also exotic.